What's on in Dalsland Center
In Dalsland Center, by Dalsland Canal, you'll find a Tourist Information Office with information and tip-offs to make your holiday in our region an adventure! Under the same roof there is an exhibition hall and two halls for concerts and/or conferences. During summer time there is always something going on! Our premises, which used to be a paper mill, also houses a café, a souvenir shop and a glassworks.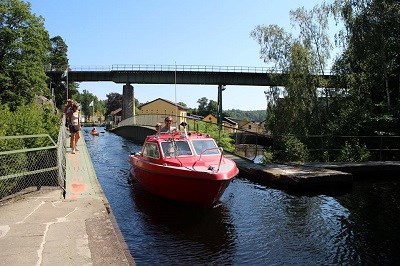 During the summer season we put on art exhibitions, children's activities and concerts. For those who want to know more about Håverud, Dalsland Canal and the aqueduct we offer guided tours (to be booked in advance). There is a choice of different accommodations and restaurants in the area. If you choose to put on your exhibition, conference or your in-service training here you will get everything a modern conference centre has to offer. You will also be close to nature, stillness and opportunities for reflections. Our premises are well suited for people with disabilities. Dalsland Center has about 150,000 visitors a year.
Opening hours
During the summer season 2021 we are open
May 1 - June 20: 10am - 4pm
June 21 - August 31:
Monday - Saturday:  10am - 5pm
Sunday: 11am - 3pm
Midsummer:
June 26 - 28 11am - 3pm
September: Saturdays and Sundays 10 am - 4 pm
Dalsland Center is available for events like trade fairs, conferences and concerts all throughout the year.
Contacts
Dalsland Center
Kanalvägen 4
464 72  Håverud
Sweden
+46 (0)530 18990, 18992