In Dalsland Center, by Dalslands kanal, you will find a tourist information centre with information and tips to make your Dalsland holiday an exciting adventure.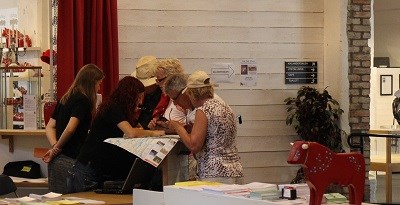 Browse through our many brochures, mostly from Dalsland, but also from other parts of west Sweden.  Our competent staff will answer your questions, help you with bookings and tell you about places well worth visiting.
Opening hours
During the summer season 2021 we are open
May 1 - June 20: 10am - 4pm
June 21 - August 31:
Monday - Saturday:  10am - 5pm
Sunday: 11am - 3pm
Midsummer:
June 26 - 28 11am - 3pm
September: Saturdays and Sundays 10 am - 4 pm
Dalsland Center is available for events like trade fairs, conferences and concerts all throughout the year.
Contacts
Dalsland Center
Kanalvägen 4
464 72  Håverud
Sweden
+46 (0)530 18990, 18992